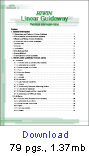 Login Status
Not logged in
» Login


© Copyright 2007-2016
Automation Overstock
All rights Reserved.


Hiwin AG Linear Guideways

Understanding Part Numbers

Click here to return to the Hiwin Tech Info Index Page

Here is a typical part number for an AG bearing block:

AGW 20 SA Z0 H E1

And here's how to break down the individual sections:

AG: this is the major designation for the HIWIN medium duty linear block line


W: this indicates a flange type bearing block. Another possibility for this location is "H" and that would mean a square-type bearing block.


20: This is the size of the block. It really refers to the width of the rail on which the blocks slides. The AG line includes several sizes ranging from 15mm - 30mm.


S: Load type. "S" means a short, two-hole mount block suitable for medium loads. "C" means a standard configuration, four-hole mount block for heavy loads.


A: Block mounting type. "A" means that items attach to the block from ABOVE via threaded holes in the block. "B" means that there is a thru-hole and a bolts go through the block from the bottom. "C" means versatile mounting from either the top or the bottom. Click here for more information.


Z0: Bearing "preload." This describes how snugly the bearing fits to the rail or the amount of "drag" it has. Automation Overstock only carries the two most common preloads: Z0 and Z1. Z0 means VERY LIGHT preload. Z1 means LIGHT preload. For all intents & purposes, there's very little difference between these two designations. Click here for more info.


H: Precision code/accuracy standards. The most common designation you'll find is "H" which means High tolerence. We have a few blocks in the next classification up with the "P" designation which stands for Precision.


E1: This won't always be included in a part number, but it is a very nice feature found on many of the blocks we acquired in our buyout. It means the block has a reservoir and is self-lubricating. These blocks can also use the traditional grease fitting, as well.

home | search | checkout | email