Click here to return to the Hiwin Tech Info Index Page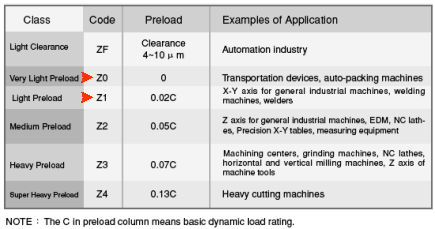 Preload is a term that describes how snugly a bearing fits on its matching rail (when both are new) and the "slide movement" characteristics that can be expected. All block part numbers contain a two-character code that will indicate the preload you are considering.
We carry two common preloads: Z0 and Z1. These are noted on the chart above with a red mark and are the recommended preloads for the vast majority of applications. In practical use, there is very little difference to be observed between these two classes.